A History of Shaping Digital Gaming
At the end of the '90s, Michel Guillemot was observing the evolutions and perspectives offered by the mobile phone industry with great interest. He soon realized that mobile phones would become a mass market and the main entertainment platform in the world. He wanted to take part in this revolution and bring this ever-growing sector his experience in the video game industry, which he acquired with Ubisoft, a company he co-founded in the 1980s.

In 1999, Michel Guillemot and his four brothers founded Gameloft with the goal of producing quality games that consumers could easily download on their mobile phones. A true pioneer, Gameloft was one of the first companies in the world to develop games for Java- and Brew-enabled handsets and quickly created a large lineup of games for their users, including impressive mobile adaptations of console games such as Prince of Persia and Tom Clancy's Splinter Cell.

By 2003, over 100 mobile phones were compatible with Gameloft titles, and the company was profitable. In 2004, brands such as Real Football and Asphalt first appeared on the scene and became true benchmarks for mobile gaming, with over 100 million copies sold to date. Gameloft also offered 3D games for the first time in 2004, as well as real-time multiplayer in 2005 on the most advanced mobile models and networks at the time. 400 phones were compatible, and the Java game lineup reached 200 titles in 2007!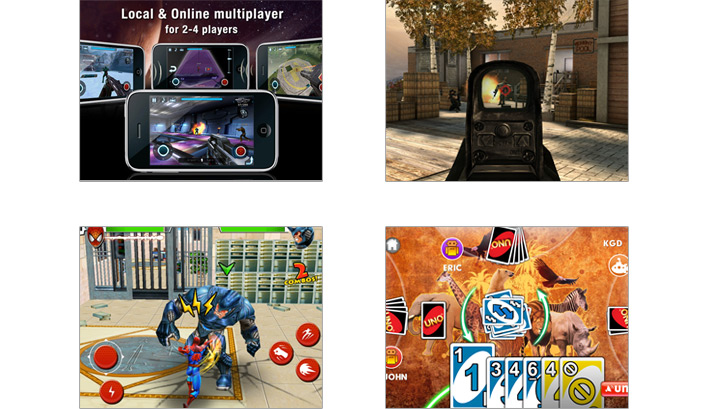 In 2008, Gameloft successfully began moving towards smartphones and touchscreen interfaces and produced notable games for the Apple iOS and Google Android systems in particular. For the first time ever, sales figures surpassed 100 million euros. New franchises such as N.O.V.A.: Near Orbit Vanguard Alliance and Modern Combat were created in 2009 and met with instant success, while classic mobile games such as Real Football, Asphalt and Gangstar impressed fans of 3D games and high-resolution graphics in their new smartphone versions, rivaling the quality of the best portable console games. Licensed games such as Spider-Man and UNO, developed and published by Gameloft, also became bestsellers on various online app stores.
In 2010, Gameloft met similar success when they began developing for touchscreen tablets; the following year, they ventured into new entertainment platforms, such as Smart TVs and set-top boxes, as well as the html5 platform for Internet navigators. 2011 and 2012 also saw a significant part of the new lineup of games aimed at an even broader audience, particularly through free-to-play, social and more casual games such as The Oregon Trail: American Settler, Fantasy Town and Fashion Icon, while catering to hardcore gamers with new franchises such as Order & Chaos and new or upcoming installments in series such as Modern Combat, Dungeon Hunter and N.O.V.A.: Near Orbit Vanguard Alliance.